Good morning Pirates! The scheduled book bus event for today is being rescheduled due to the inclement weather and will now take place this Thursday, August 17 and will occur at the same times and locations as previously scheduled. We appreciate your understanding and hope to see many of our little Pirates on Thursday. Thank you.

We want to express our gratitude to our amazing leadership mentors who volunteered their time to help us during the Pathfinder Middle School leadership camp this week. Thank you for being such positive role models and for inspiring our students to be their best selves!

Our Pirate Book Bus was a huge success last week, and we're thrilled to announce that we'll be hosting another one next week on Tuesday, July 18th. We've made a slight change to the first stop location, so please be sure to take a look at the updated flyer!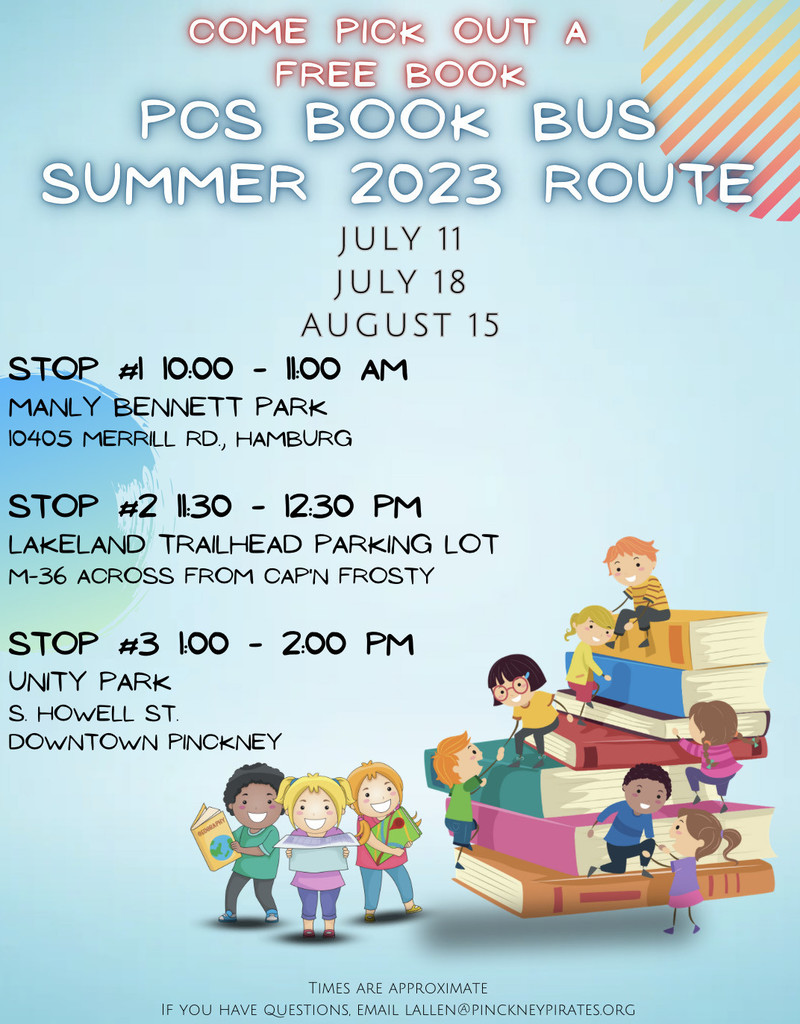 Hi PCS Elementary Families! Please join us for our Pop Up Reading event at Cap'N Frosty today from 3pm to 4pm (weather permitting). Listen to a story read by one of our teachers and then receive a free book to take home. Hope to see you there! (If weather forces us to cancel this event, a message will be sent out as soon as possible). Thank you!

Good morning Pirates!! We will be hosting our Mobile Food Pantry this Wednesday, July 12, at the PCS Bus Garage from 4:30pm to 6pm. The following food items will be distributed: pears, spaghetti, corn, Garbanzo beans, walnuts, and chicken drumsticks. Please share with anyone who may be able to take advantage of this service. Thank you.

PCS families! Please join us for our annual Pop Up Reading events and visit the PCS Book Bus Stops. Our first book bus will run on Tuesday, July 11th. See flyers below! Hope to see you all there so you can get a free book!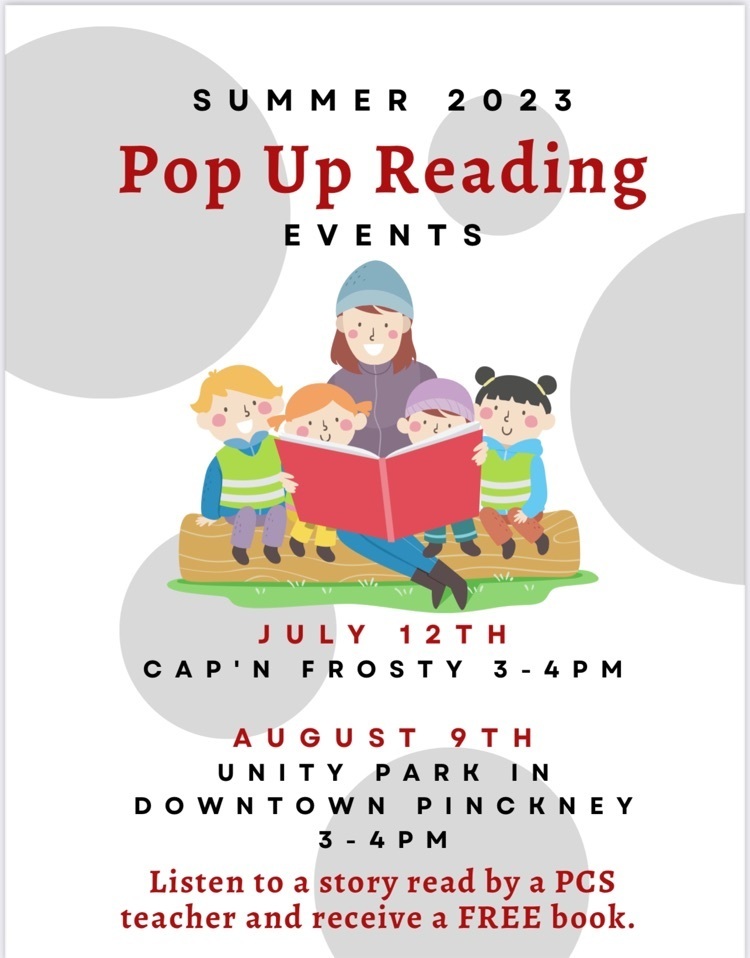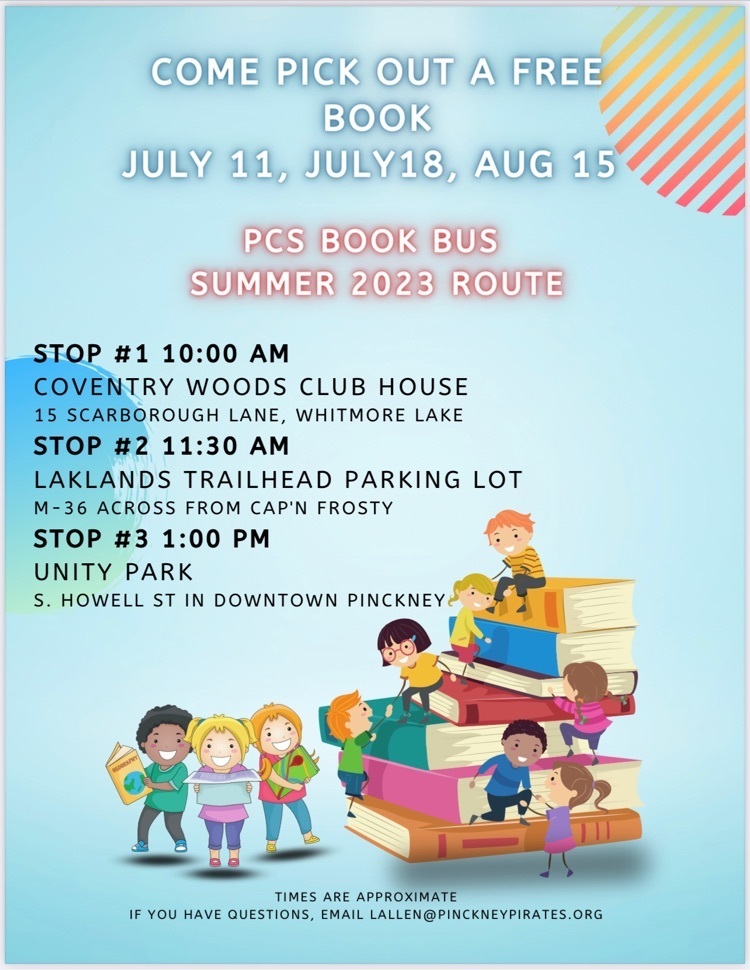 Hello Pirates! We will be hosting our Mobile Food Pantry this Wednesday, June 14, at the PCS Bus Garage from 4:30pm to 6pm. The following food items will be distributed: applesauce, green split peas, dry navy beans, rice, green beans and pulled pork. Please share with anyone who may be able to take advantage of this service. Thank you.

Hello Pirates and Happy Last Day of School!! I have provided my last weekly update for the year as a short video to personally express our gratitude to our parents and staff, along with recognizing five special staff members who will be retiring. Thank you for being part of our PIrate Family and have a great summer! ~Rick Video:
https://youtu.be/tdAckitwyzc

NOTICE: M36 has just been cleared to reopen as Charter was extremely responsive and was able to get the wire off the road and all normal traffic patterns can resume as normal. We thank you for your flexibility and understanding and we apologize for any confusion this may have caused as this happened at the very worst time. Thank you.

NOTICE: A gravel truck has just knocked down a wire (communications/fiber we believe) right in front of Navigator School at the exit drive. The fire department has closed M-36 at McGregor/M36 and at Farley Rd/M36 as we are waiting for DTE and/or Charter to arrive on the scene. Our buses will be able to pick up our students at Pathfinder (2:45) and will be able to transport our students home. However, parents who are coming to pick up their child at Pathfinder MUST use the entrance off of McGregor if coming from the east or if coming from the west, please use Darwin rd. to access McGregor. Law enforcement will be on site to help direct traffic. We are hoping that this issue will be resolved by the time we will dismiss for elementary. We will keep you posted. Thank you.

Good morning Pirates! We are looking forward to sending off our Graduating Class of 2023 at Pirate Stadium on this beautiful Sunday morning and we wanted to remind our Pirate family that the graduation ceremony is being streamed at 10am using the following link:
https://www.youtube.com/watch?v=k9hLpvQkCNQ
. Congratulations Graduates and GO PIRATES!!

Update to Internet outage: Testing has confirmed a break in the fiber located at Lee Rd. in Brighton. A crew has been dispatched to the sight and will begin working on fixing the break. Unfortunately, we cannot provide an estimated time for completion at this time. Thank you.

Good morning Pirates. We are currently experiencing an Internet outage and are working with LESA to determine the cause. Our phones are working, but we cannot access email or MiStar via our district computers. We will keep everyone posted. Thank you.

Hello PIrates, the AT & T circuits are now back up and running and our phones are now fully operational. Thank you and enjoy your afternoon.

Hello Pirates, we were just informed that AT&T circuits are down, causing external inbound and outbound calls to fail throughout the district and county. If parents need to contact us directly, please send an email to the corresponding school. For staff, we are able to call internally within the district. This service outage does NOT impact wireless service. We will update everyone once we know things are repaired. Thank you.

Given the slick conditions, our high school/Pathfinder bus runs are running about 10 minutes behind and because of this, we will expect that our elementary pick-up times may be delayed by approximately 15-20 minutes. We do ask students to be at the stop at their normal time as it will be difficult to predict given the conditions. We appreciate your understanding. Thank you.

Good morning Pirates. Please be aware that the fresh layer of wet snow that has recently fallen has created some pretty slippery conditions on the roads. Please use extra caution, take your time and orovide plenty of room for braking. Parents with teeanage drivers, please remind them of this before heading out the door this morning. Thank you.

Good morning Pirates! Hope everyone is doing well after the snowstorm. As an update, we wiill be hosting both the District basketball game at 1pm and Daddy Daughter Dance tonightt at the high school. Please know that our crews are doing the very best they can to clean up our parking lots and sidewalks, but given the weight and amount of snow, along with equipment faliure we are working through, the quality may not be at the standard we expect of ourselves and we apologize in advance. Stay safe everyone, hope all power and internet/cable issues will be resolved quickly. Take care of yourselves Pirates and enjoy the sun and snow.

Good morning Pirates! Given the winter storm expected this afternoon/evening, we are cancelling all community education activities (Family Fun Night, Adult Volleyball, etc). Latchkey services WILL remain open. Tonight's district girls basketball final game is being rescheduled for tomorrow at 1pm (tentatively). The Daddy Daughter Dance will go on as scheduled tomorrow night. Thank you and have a great weekend! ~Rick Todd

Good evening Pirates. It should be no surprise that the road conditions we will be facing tomorrow morning will not be conducive for safe travel, especially on our many back roads. As a result, PCS will be closed on Thursday, Feb. 23. Thank you for your support and understanding as we look to keep everyone safe. Go PIRATES!!