To schedule a tour, please contact the building (or buildings) or would like to visit.
Building tours are suspended until further notice.
Country Elementary, Preschool-2

Farley Hill Elementary, Preschool-2

2939 E. M-36
Pinckney, MI 48169
Phone: 810.225.6600
Link to Map

8110 Farley Road
Pinckney, MI 48169
Phone: 810.225.6400
Link to Map
Pinckney Community High School, 9-12
10255 Dexter-Pinckney Road
Pinckney, MI 48169
Phone: 810.225.5500
Link to Map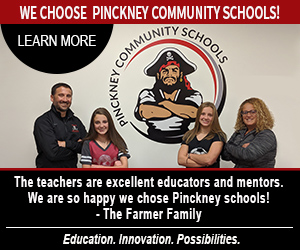 Bryan and I talked at length about where we wanted to send our girls to school. I grew up in a small community that was amazing, but it only offered basic programs for kids. I thought it was important to send our kids to a school that offered a variety of programs to choose from but at the same time offered that small-town comfort. At the time we didn't know what our girls were going to be passionate about. We thought Pinckney was a great fit based on reviewing the academic ratings, recommendations from friends, and all the extracurricular options.
Both Cassidy and Mallory have attended Pinckney Schools as their school of choice since Kindergarten. Our girls have experienced a wide variety of opportunities both in and outside of the classroom. Their teachers have been excellent educators and mentors, and our kids have participated in classes/programs like orchestra, guitar, photography, track, competitive cheer, and soccer.
Pinckney Schools even provides students the opportunity to start programs. When Cassidy was in 4th grade and Mallory in 6th, they wrote a proposal to their principal to start an after-school archery program. Within 3 days of advertising the after-school club, 80 students signed up! Since then, over 200 people participate in Pinckney Archery programs each year. In 2017 a school archery team was formed for 5th-12th graders. In 2018, archery became a Varsity Sport, and that same year, the Pinckney women's middle school and high school teams both won 1st Place at the Michigan High School Archery Association Championship.
We are so happy we chose Pinckney Schools. We appreciate the education and opportunities our daughters have been given. We love this community and are happy our girls will be able to grow up and call it their hometown.
We are so happy with the constant communication and feedback from the teachers, the principal and the superintendent of Pinckney schools. Everyone really seems to care about the kids. Chase is learning so much (way more than we learned in elementary school) and is loving it!
We couldn't be happier with our decision to choose Pinckney Community Schools.