EDIT MAIN
UPDATE: Farley Hill Food Pantry will be open Thursdays 1:00- 2:30 pm at the north end of the building.
*Note that the Pantry will be closed on July 2. Please plan on visiting our Mobile Food Pantry at the Transportation Garage on Wednesday, July 1, from 4:00 - 6:00 pm.
Please stay in your vehicle and pull up to the curb. Prepackaged food will be loaded into your vehicle.
(FAMILIES WILL NOT BE GIVEN THE OPTION TO SHOP IN THE INTEREST OF SAFETY.)
Donations will be accepted Thursdays 10:00 am - 12:00 pm.
Please take a moment to read the following update from our Pantry Staff.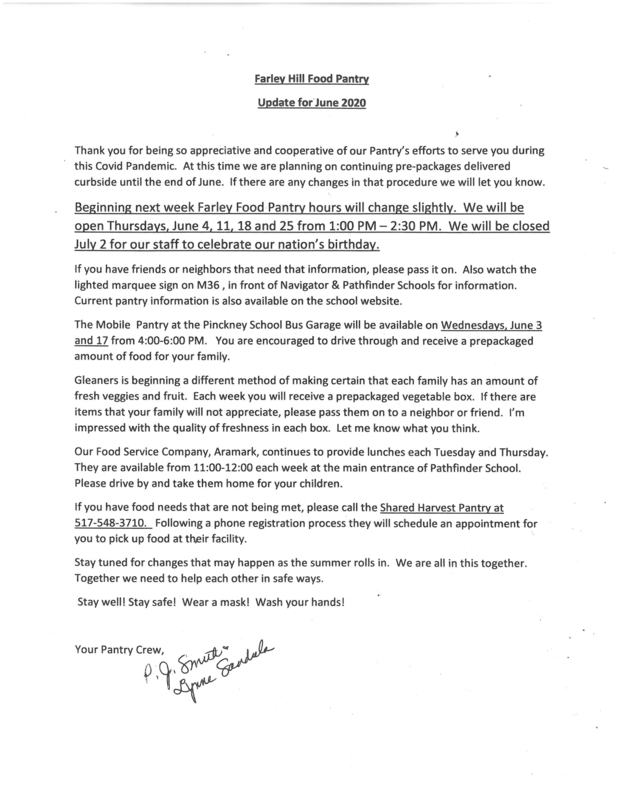 ----------
Are your cupboards looking bare? Are you having a difficult time making ends meet? Maybe we can help. Did you know we have a Food Pantry right here at our school? Families in need are invited to visit our Food Pantry (use the entrance on the north end of the building). We accept donations for our Food Pantry year round, so if your cupboards are overstocked please consider donating extra items for those in need.